Happy Valentine's Day! Any plan with your sweetie to celebrate this special day? My hubby already barbecued tri-tip for me and the family during the weekend in lieu of going to a restaurant today. Even if we have reservations, we observed that it takes a long time before we get the chance to have a table and with kids, a supposed to be fun evening might turn into impatient and unhappy kids that might result into stressed out parents.
Now on to our party. Come on in and link up your family-friendly online businesses and giveaways. It has been long said that businesses are the lifeblood of the economy. Not only that, businesses really fuel the economy. This blog party, solely dedicated to promoting businesses and giveaways, is my way of giving back to the community so welcome to
Market Your Biz & Giveaways
!
Gina (who, by the way, already guest posted in my
Blogging for Dollars Series
) from the
Shabby Creek Cottage
said it best, "You may not get a sale directly from that site every single day – but you are building brand recognition. Pepsi does not advertise so that you stop what you're doing and go directly to buy a drink – but when you do need to quench your thirst and you are shopping for a drink, Pepsi is going to be recognizable to you. Bottom line, you need to build your brand!" This blog party helps you accomplish build your brand.
Business owners, we wanna see your products. Giveaways are good because they create a buzz about your business. Giveaway hosts, we wanna join! Readers, here's your chance to win fabulous freebies. So come on in and participate in this virtual marketplace.
Featured Biz
Our featured biz today is
Cherished Bliss
, an etsy shop that offers photo props, patterns, and accessories for newborn's through adult.
This Rose Garden Puff Stitch Beanie with cream flower is an example of the shop's excellent product.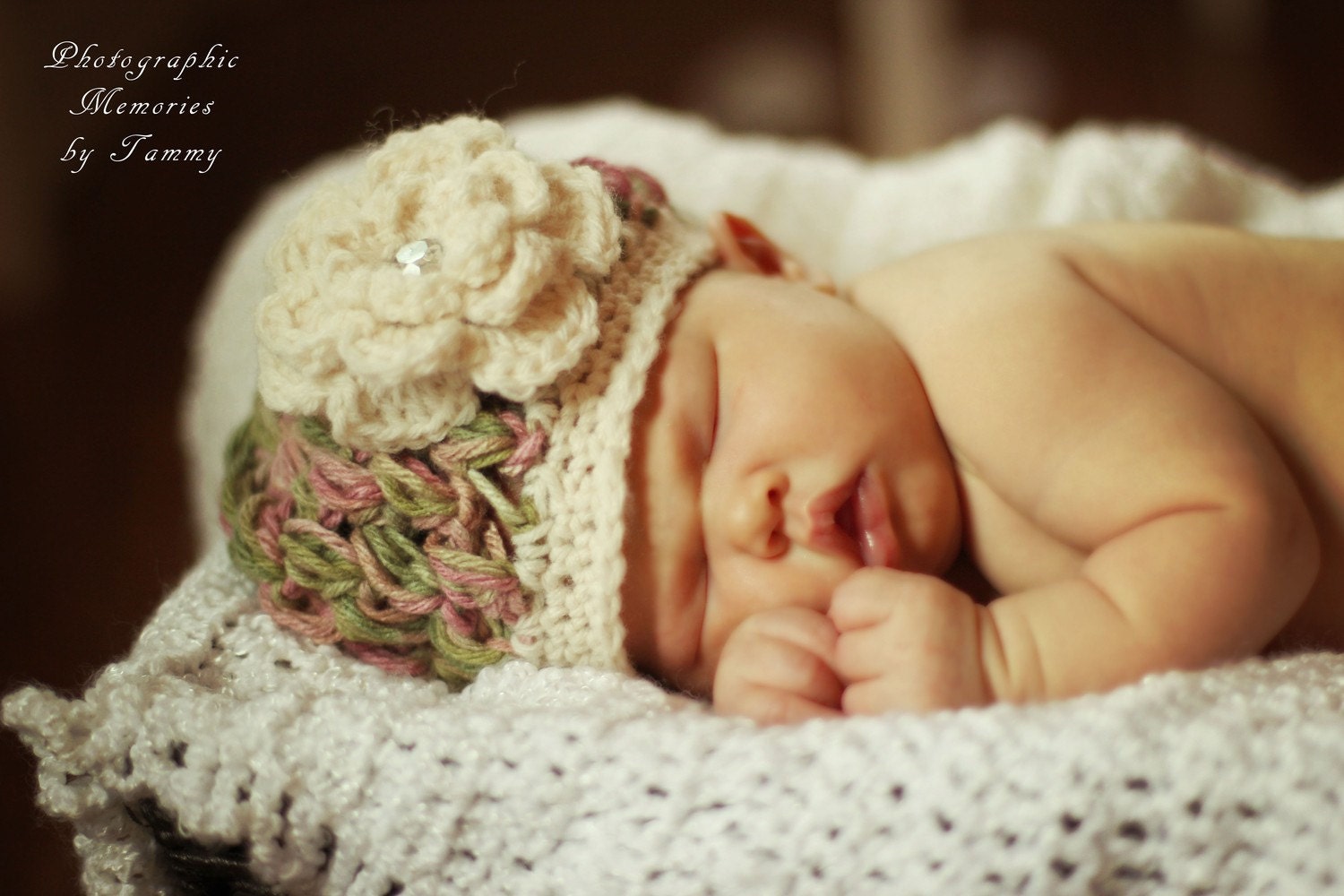 Our Party
NO RULES! Just link up your etsy and/or family-friendly business, browse other businesses before you and after you. It's a great way to network with other business owners. For the giveaways, same thing. Just link up your giveaways and join the other giveaways that catch your eye. If you have a creative post and you want to increase your followers, the appropriate blog party for that is called
Creative Bloggers' Party & Hop
.
Link opens every Tuesday, 5:00 pm, PST and ends Saturday, 11:59 pm.
Here's the party button. Displaying the party button on your blog, while optional, is very much appreciated! For one, it will help you to remember to come back here next week. Secondly, we want to spread the word about businesses and giveaways so many can join in. Mentioning it on Twitter and Facebook will also make you totally awesome :)
MYBG Inspiring Comments
"Thanks for hosting. Linkys for biz and giveaways are far and few; your linky has helped me reach to people saying that Adithis Amma Sews has launched Custom Made Kids Clothing and 2 Skirts are already on sale!"
Creative Mama

"Thank you so much for hosting. I've made a recent sale and believe it is from your blog party! Thanks again!"
Elisabeth Davis

"Thank you for hosting this every week. I have noticed that I do generate a lot of hits from your site and I really appreciate a place that I can find other etsy shops that I might not have seen otherwise. So thank you again."
Kate

"I cannot tell you how much I agree with everything Gina said!! So true to the word! Also, a huge thank you to you for hosting. Ever since I started marketing my shop here I have had several sales and I believe that they came redirected from your blog! Thank you again and God bless!!"
Maya

"Thanks for hosting! Decent linky parties for giveaways and businesses don't seem to exist! So I appreciate this."
Kahli

Friends, network, buy if you must, join the giveaways, and have fun!
PS: I'm not a blog police but in the name of order and organization, you'll be my bloggy BFF if you link up in the appropriate links :D Please note that there are two links. Here's the link for your businesses. There's a second link below specifically for giveaways so how about linking up your giveaways in there? Besides, it's easier to find and join your giveaways if they're in the appropriate link. If you accidentally linked up in the wrong spot, don't fret. Just click the red x before your link to delete it, then link up in the correct spot.
Link Up Your Family-friendly Businesses Here
Link Up Your Giveaways Here
To bring maximum exposure for your giveaways, I'm collaborating with Brynn from MommyDigger so please feel free to link up your giveaways, too, in her party every Wednesday.