I love baby showers more than Christmas! I know that's weird but there's always something magical about baby showers. Baby showers are a celebration of life and motherhood. After 5 instances of me being the recipient of so many meaningful and fun baby showers, it's paying forward time. We held a baby shower to Wendy last February 15th and oh, it turned out great! In addition to the eye-candies that we all enjoyed, it fostered camaraderie and great bonding time for a department that just got a new mix of people, including me :)
The baby is fondly nicknamed Peanut so the decors revolved around peanuts.
Here's the table runner with gold and brown-spray painted peanuts.
Part of the decors are these made-to-order cupcakes whose wrappers are congruent with the colors of the party.
This "Dumbo" the elephant explicitly stated that this is a party meant for Wendy's Little Peanut.
Putting the words "Congratulations, Wendy and Eli!" completed this cute cupcake arrangement.
The cupcakes are cute enough by themselves but this cake diaper has become the cutest centerpiece of all.
With Dumbo the elephant on top of it, and mind you, there are 67 diapers required to make this cake, we just had the perfect symbol of the party.
A closer examination will make you realize how easy it is to make this cake. Just roll 67 diapers, make 3 stacks, bundle them up together, tie a ribbon around them and now you have a cake!
I was trying to avoid having the chairs in the background as I took pictures of this cake and lo and behold, this aerial view turned out great :)
Let me show you the seat of honor.
This designated seat for Wendy has been decked out with fabulous ribbons.
We also decided that the presents should stay within Wendy's reach in time for the gifts opening.
Through the collaboration of great people, this curtain was installed quickly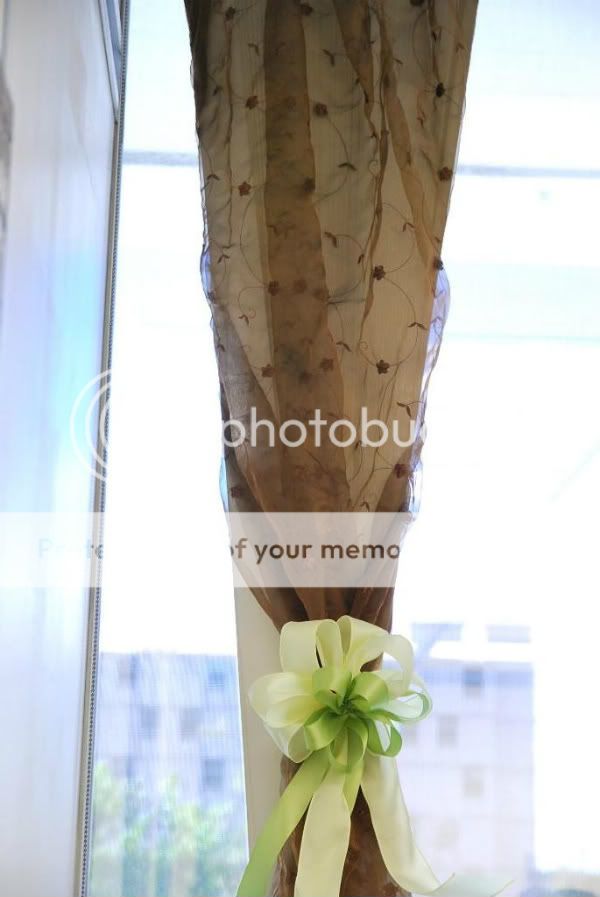 and be-ribboned, too (if there's such a word).
To draw eyes up on the ceiling, these cuties were also hung up.
We all loved the banner with earth tones, the picture of Dumbo, and Little Peanut's name.
A party is not a party without food so here's a quick snapshop of some of the foods that we potlucked.
Now that you've seen the details, here's how the whole room looked like.
At the end of the lunch, gifts had to be opened.
Here I am, with the proud parents of Little Peanut, capturing and sharing this special moment in their lives.
Congratulations, Wendy and Eli! Here's to a lot of sleepless nights and fun days with your little one ;) Cheers!
I hang out here:
The DIY Showoff ~ House in Roses ~ Round Tuit ~ Crafts Keep Me Sane ~ The Girl Creative ~ C.R.A.F.T. ~ Craft-O-Maniac ~ ~ Skip To My Lou ~ Boogieboard Cottage ~ Metamorphosis Monday ~ Making The World Cuter ~ Sumo's Sweet Stuff ~ Knick of Time ~ {T} Coastal Charm ~ Artful Rising ~ Today's Creative Blog ~ Home Stories A 2 Z ~ Knick of Time ~ Tip Junkie ~ Sugar Bee ~ Ladybug Blessings ~Not JUST a Housewife ~ My 3 Boybarians ~My Uncommon Slice of Suburbia ~ A Bowl Full of Lemons ~ Homework ~ Crayon Freckles {W}Type A ~ Southern Lovely Savvy Southern Style ~ Ginger Snap Crafts ~Sew Much Ado ~ Lil' Luna ~ Fabric Bows and More ~ Handy Man, Crafty Woman ~ Creations By Kara ~ Someday Crafts ~Seven Thirty Three ~ {T} Somewhat Simple ~ Beyond The Picket Fence, No Minimalist Here, The Shabby Chic Cottage ~Brambleberry Cottage ~Fireflies and Jellybeans ~Brandy's Crafts ~ House of Hepworths~ Saved By Love Creations ~ {F}At The Picket Fence ~ Fingerprints On The Fridge ~Simply Designing ~Chic On A Shoestring Decorating ~ Katherine's Corner ~Simply Sweet Home ~My Romantic Home ~ A Little Inspiration ~A Little Knick Knack ~ Whipperberry ~ 504 Main ~ French Country Cottage, Shabby Nest ~ Potpourri Friday ~ Remodelaholic, {S} Amanda at Serenity Now, Designer Garden, Be Different...Act Normal ~Funky Junk Interiors ~Tater Tots And Jello ~ Nifty Thrifty Sunday ~ I Heart Naptime ~ ~Flamingo Toes