Ok, friends, I just couldn't contain my giddiness since last weekend because I AM FEATURED in an ebook along with other awesome bloggers! See the new button that I'm displaying on the left column under Featured Site? It's serving as a badge of honor to be included in Women: Blogging Can Give You Wings by
Cindy Adkins
.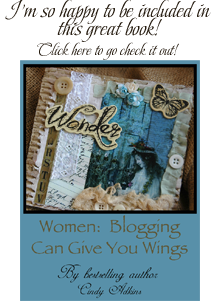 Here's the product description from amazon.com: Blogging is one of THE most powerful networking tools available today. Learn from bestselling author and blogging expert Cindy Adkins why having an online presence is essential. Increase traffic to your blog and learn from "super-bloggers" who have already mastered success. They include
Sonia Crouse
, Editor-In-Chief of Creating Vintage Charm magazine;
Pat Winter
, Editor-in-Chief of Crazy Quilt Gatherings magazine (Gatherings);
Karen Valentine
(My Desert Cottage) custom blog designer for Valentine Design and creator of the yearly studio event Where Bloggers Create;
Sharon Hughes
(My Life at Pansy Cottage and Garden) and creator of Launch Your Creativity;
Liz Perry
(The Brambleberry Cottage);
Soraya Julian
(Homemaker on a Dime);
Debbie Manno
(Debbiedoos,) as well as
Debra Germain and Nicole Germain-Perez
(Capers of the Vintage Vixens.) These are all women who know first-hand how blogging can impact women's lives and are willing to share their knowledge with others to help them increase traffic and make their online spaces profitable, as well as enjoyable.
Never in my wild imagination did I think to be interviewed for a book. What an honor! Am I dreaming or what?
Ok, on to our party, friends!
Our Party
NO RULES! Just link up your etsy and/or family-friendly business, browse other businesses before you and after you. It's a great way to network with other business owners. For the giveaways, same thing. Just link up your giveaways and join the other giveaways that catch your eye. If you have a creative post and you want to increase your followers, the appropriate blog party for that is called
Creative Bloggers' Party & Hop
.
Link opens every Tuesday, 5:00 pm, PST and ends Saturday, 11:59 pm.
Here's the party button. Displaying the party button on your blog, while optional, is very much appreciated! For one, it will help you to remember to come back here next week. Secondly, we want to spread the word about businesses and giveaways so many can join in. Mentioning it on Twitter and Facebook will also make you totally awesome :)
MYBG Inspiring Comments
"Thanks for hosting. Linkys for biz and giveaways are far and few; your linky has helped me reach to people saying that Adithis Amma Sews has launched Custom Made Kids Clothing and 2 Skirts are already on sale!"
Creative Mama

"Thank you so much for hosting. I've made a recent sale and believe it is from your blog party! Thanks again!"
Elisabeth Davis

"Thank you for hosting this every week. I have noticed that I do generate a lot of hits from your site and I really appreciate a place that I can find other etsy shops that I might not have seen otherwise. So thank you again."
Kate

"I cannot tell you how much I agree with everything Gina said!! So true to the word!
Also, a huge thank you to you for hosting. Ever since I started marketing my shop here I have had several sales and I believe that they came redirected from your blog! Thank you again and God bless!!"
Maya

"Thanks for hosting! Decent linky parties for giveaways and businesses don't seem to exist! So I appreciate this."
Kahli

Friends, network, buy if you must, join the giveaways, and have fun!
PS: I'm not a blog police but in the name of order and organization, you'll be my bloggy BFF if you link up in the appropriate links :D Please note that there are two links. Here's the link for your businesses. There's a second link below specifically for giveaways so how about linking up your giveaways in there? Besides, it's easier to find and join your giveaways if they're in the appropriate link. If you accidentally linked up in the wrong spot, don't fret. Just click the red x before your link to delete it, then link up in the correct spot.
Link Up Your Family-friendly Businesses Here
Link Up Your Giveaways Here
To bring maximum exposure for your giveaways, I'm collaborating with Brynn from MommyDigger so please feel free to link up your giveaways, too, in her party every Wednesday.