I believe the children are our future
Teach them well and let them lead the way
Show them all the beauty they possess inside
Give them a sense of pride to make it easier
Let the children's laughter remind us how we used to be
~The Greatest Love of All sung by Whitney Houston
Can you spy a nutcracker, a Christmas gift, a stocking? How about a red button, a pink heart, and a gingerbread man?
This Christmas craft is a great introduction and spin to the well-loved I Spy books that kids enjoy.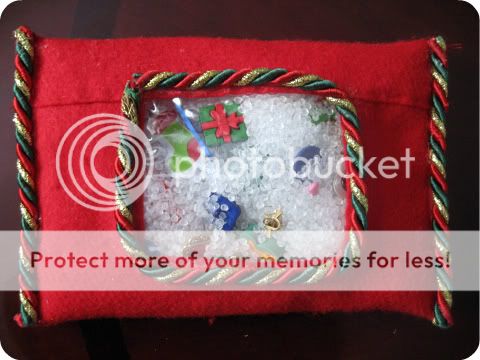 I wanted to make something for my toddler to improve her verbal skills and at the same time enhance her fine motor skills. Afterwards, I remembered, "Oh, I have this project that has been sitting in my crafting tote since she was born." (Is it only me, or do you also have projects that have been set aside for a while, then you totally forget that it's been there, only to recall it at the right time?) So bloggy friends, this craft has been 3 years in the making but it only took me an hour and a half to complete the project.
This is how I did it. Have the following materials ready then follow along.
Poly-pellets that can be bought from any crafting store.
Felt paper - 9"x12" I chose felt paper because of it's texture. Another alternative is fabric or red vinyl.
Vinyl that will fit in your opening.
Christmas-sy buttons, or
other interesting items that you see fit. In this case, I got these erasers at 99 cents store. The possibilities are endless...numbers, googly eyes, shapes, anything to encourage searching and learning.
Glue, needle, pins, and thread. I had to glue the parts together first before doing a running stitch. (Here's a good explanation about
running stitch.
)
Fill with Poly-Pellet beads and buttons.
Here it it in an almost finished state. Afterwards, I did a blanket stitch on both ends of the rectangle to help prevent the beads from spilling out. Running stitch may cause some gaps where the beads can pass through so to seal it, I capped it off with blanket stitch.(Here's a tutorial of
blanket stitch.
)
My little princess surely is glued to her new unfinished toy and it aroused her awareness to all things Christmas-sy.
My two girls ended up playing together with their conversation going like this:
Princess One: (shaking it, then showing to the young one)Tiggy, can you spy a Santa?
Princess Two: (pointing at the object) Here it is.
Repeat n times for the other items remaining til both are tired talking.
When they let go of the toy, I glued the Christmas-sy rope.
And there you have it, my dear friends, the "I Spy" Christmas craft. Just a quick note: for older kids, you may write on an index card the things they can look for.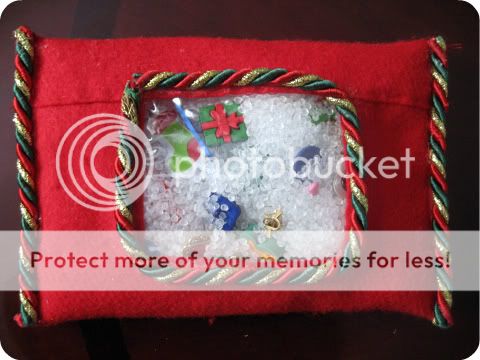 Christmas is coming up - sooner than we think! Woo hoo! So excited :D
If you enjoyed my post, and I hope you did, please leave a comment, or become a follower. Thanks :)